Meet the Maker
Well Hello!
My name is Cheryl, I'm a wife, a mum of two, a successful career woman and the founder of Light n Crafty.
I created Light n Crafty to help my fellow "super mums" who give so much to others, ultimately leaving so little left for themselves. Those women who want to enjoy being more creative and crafty but, who feel it's all just a bit too advanced or scary or maybe simply tag it as "too hard". Don't get me wrong, my kits are for everyone...but it's these women, women like me, that I desperately wanted to help. They were my inspiration, motivation and whom my business is built to serve.
I designed and brought to market a range of lighting craft kits that achieve amazing results with virtually no time or effort required. My kits are designed to be a gateway to break down that self doubt monster that whispers in our ear and stands in our way far too often.
Want to read more about my story, values and beliefs? Click read more
Read more
DIY Lamp Kit
This high quality kit takes all the hard bits out of making your bespoke lamp and guarantees awesome results in minutes!
Whether you are repairing, repurposing, reusing, upcylcing or improving. Maybe it's a sentimental bottle or one that's just too nice. A vase, an amazing Op shop discovery, or even a shoe! If it has a hole, or, you can make a hole, then you can use this kit to transform it in to a sensational lamp for your
home, or maybe as a gift? 
This quality range comes in 4 colours, is fully wired, assembled, and is certified to strict safety standards. All you have to do is pick which bung fits your opening best, pop it on and plug it in!
My mission is to help make your inner self smile
I'm going to let you in on a secret...being creative isn't a talent that you either have or you don't have. Neither is it a skill that you can learn and "be good at".
Creativity is simply what happens when you let your inner self smile.
I wanted to be creative. I wanted to join the self care community. To feel the glow of my inner harmony at peace...but there was always a reason that stopped me.
"I don't have time" , "I don't have the right equipment" , "I don't have the know how" , "Mine won't look that good".
What ever my reason at the time was, ultimately, behind it all sat fear and insecurity.
I made it my mission to create products that bridge the river of insecurities and help people get to their "Crafty Island".
Take a look at what our customers have said and done
Great communication and lightening quick shipping! Thanks for all the help choosing the right products! ⭐⭐⭐⭐⭐ Izzy Aug 21
Great DIY kit. Good quality materials and detailed instructions. I had my own material already and love the finished result! Will buy again. Highly recommended! ⭐⭐⭐⭐⭐Mardi Oct '21
Perfect size for a growler. The light fitting feels very sturdy and well made. Highly recommend! ⭐⭐⭐⭐⭐ Emma Feb '21
Lampshade Kits
With a huge range of sizes, shapes, and fittings you'll create the perfect lampshade for your home using this simple, fun and stylish kit.

Using our self adhesive backing with any fabric paper, or wrapping you can desire, our kits are heat treated and coated specifically for use with light bulbs.
Be it a beautiful fabric, Dads favorite old shirt, a pillow case to match your bed linen, wallpaper, wrapping paper, your child's first artistic master piece, the options are endlessly mind blowing!
Amazing gift for yourself or for your creative, crafty, stylish friends. 
See the Range
Why is it all to do with lighting?
Creativity is so vast in what it includes that I decided I wanted something to link it all together. To me, light personifies my core values.
Light is pure, calming and healing. I think everyone has been mesmerized by the dance of a flame, stared up at a bright glowing moon or wished upon a star.
Light brings warmth physically and mentally. When we feel pride, we feel a warmth spread through us and we glow.
Purity and morality, cosmic energy, creative force and optimism are all related to light.
To read more about light click read more
Read more
Outdoor Lighting
Light up your outdoor entertaining space using your repurposed, upcycled bottles and our simple to use tiki torch kits. The naked flames create a stunning, tranquil ambiance whilst actively repelling bugs. The wicks can be used with your choice of lantern or citronella oil and will never burn down.
Available as free standing and bracket kits they are great gift ideas for anyone who loves their outdoor space, and remember, a pair balances, but true style is achieved in 3's.
Click below to shop the range
Shop Now
Kits for Kids
These lantern kits are perfect for little fingers to get the crafty glow.
They come with everything needed, including a battery powered LED tealight.
Simply let them pick what fabric or paper to use to complete their personalised projects start to finish.
Shop now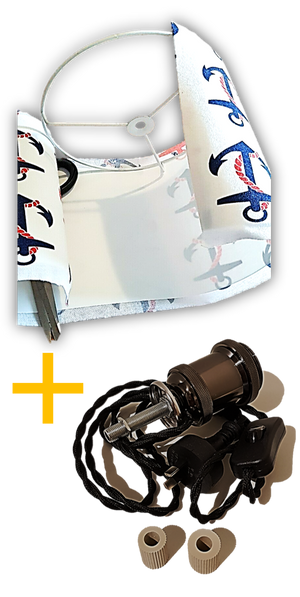 Lamp Kit & 20cm Lamp Shade Kit
Sale price Price $31.00 Regular price Unit price / per